Vanilla and Dulce de Leche (Cajeta) Macarons

For the Mac-April (Mac Attack 6) challenge, our macarons were to be influenced by an April holiday. This month many schools observed Spring break, which during my childhood it was called Easter break. Even though I don't necessarily have a Spring or Easter break to look forward to as in my kid days, April is beautiful month welcoming in Spring and always brings me back to poignant memories of carefree childhood family gatherings during our Easter vacation with the people who are the very fabric of my being. There isn't one type of flavor or food that is reminiscent of April holidays for me. However, because April often takes me back to warm memories of a home my parents made for us, I'm associating this month's challenge with a flavor and food that takes me to that time in my life.
My Mom used to make this treat for us using sweetened condensed milk and boiling it until it was what we called cajeta. These days it is more commonly referred to as dulce de leche.    An interesting story around the name reference change…around 2005 the Hershey Company came out with a United States line of products aimed at the Hispanic/Mexican food connoisseurs called "Cajeta Elegancita".  After launching the line of Cajeta products, it was realized that the word cajeta was a term used in Argentina for vulva.1 Ooops!   Thus a good explanation to why it is now more commercially referred to as "dulce de leche" (which technically is not incorrect, as that's what it is).
I added a teaspoon of vanilla extract to the meringue, but could've used even more.   I'll have to look for powdered vanilla extract for a more vanilla flavor in the shells.    For the filling I used cajeta (dulce de leche).    I don't think that I will ever get over the elation of the initial revelation during each baked batch of macarons' development of feet (the pied).    As soon as the macarons' pied is visible…I am "yahooing" around the house.   I just can't help it!   My first attempt at macarons (back in October 2009) were "piedless" – so I have felt that disappointment of being macaron challenged.
Did

not

age the egg whites.
Preheated oven between 400-375 degrees.  When placing the pan of macaron shells in the oven,  dropped oven temperature to around 335 degrees.
An extra cookie sheet is placed in the oven during the preheat and my pan of macaron shells sits on top of that pan while baking.
Quarter turned the pan for more even baking at least four times during the baking duration.
Sprinkled raw sugar on top of the shells after piping for texture and aesthetics.
Vanilla and Dulce de Leche (Cajeta) Macarons
source Martha Stewart Parisian Macaroons
Makes about 16 filled Macarons
Ingredients
Macaron Shells
1 1/4 cups plus 1 teaspoon confectioners' sugar
1 cup (4 ounces)  blanched almond flour
6 tablespoons fresh egg whites (from about 3 extra-large eggs)
Pinch of salt
1/4 cup granulated sugar
1 teaspoon vanilla extract
raw sugar (optional for macaron shell garnish)
Filling
7 ounces dulce de leche
Directions
Preheat oven to 350 degrees. In a medium bowl, whisk together confectioners' sugar and almond flour. In the bowl of an electric mixer fitted with the whisk attachment, whip egg whites with salt on medium speed until foamy. Increase speed to high and gradually add granulated sugar and vanilla extract. Continue to whip until stiff glossy peaks form. With a rubber spatula, gently fold in the confectioners' sugar mixture until completely incorporated.
Line baking sheet with parchment paper; set aside. Fit a pastry bag with a 3/8-inch #4 round tip, and fill with batter. Pipe 1-inch disks onto prepared baking sheets, leaving 2 inches between cookies.  In an attempt to alleviate any air bubbles in the piped shells, hold the baking pan firmly and tap the pan against your counter-top at least 6-10 times.    Sprinkle raw sugar on shells (optional).  Let stand at room temperature until dry, and a soft skin forms on the tops of the macarons and the shiny surface turns dull, about 15 minutes.
Bake with the door of the oven slightly ajar, until the surface of the macarons is completely dry, about 13-15 minutes.  Cool completely before removing from baking sheet.

Macaron Shells
Evenly spread about 1 tablespoon of dulce de leche (cajeta) to the flat side of a macaron shell.  Fit another macaron shell on top of the layered shell to create a sandwich.   Repeat with remaining shells.

Vanilla and Dulce de Leche (Cajeta) Macarons
Special Appreciation for the compliment and kind mention from Marian's South American Food Blog on About.com!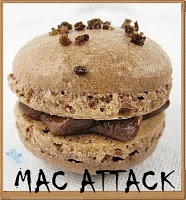 References